Here is a view of my shack.....(Old and New)
Seems like the shack is constantly changing.A little of yester-year, yesterday and today. Above is a picture of my
previous shack, "BR", Before Renovation in March of 08. Below is a picture of my renovated shack with built-in counter
and a workbench at the end. Both this picture and the one below are taken from the same angle to the room.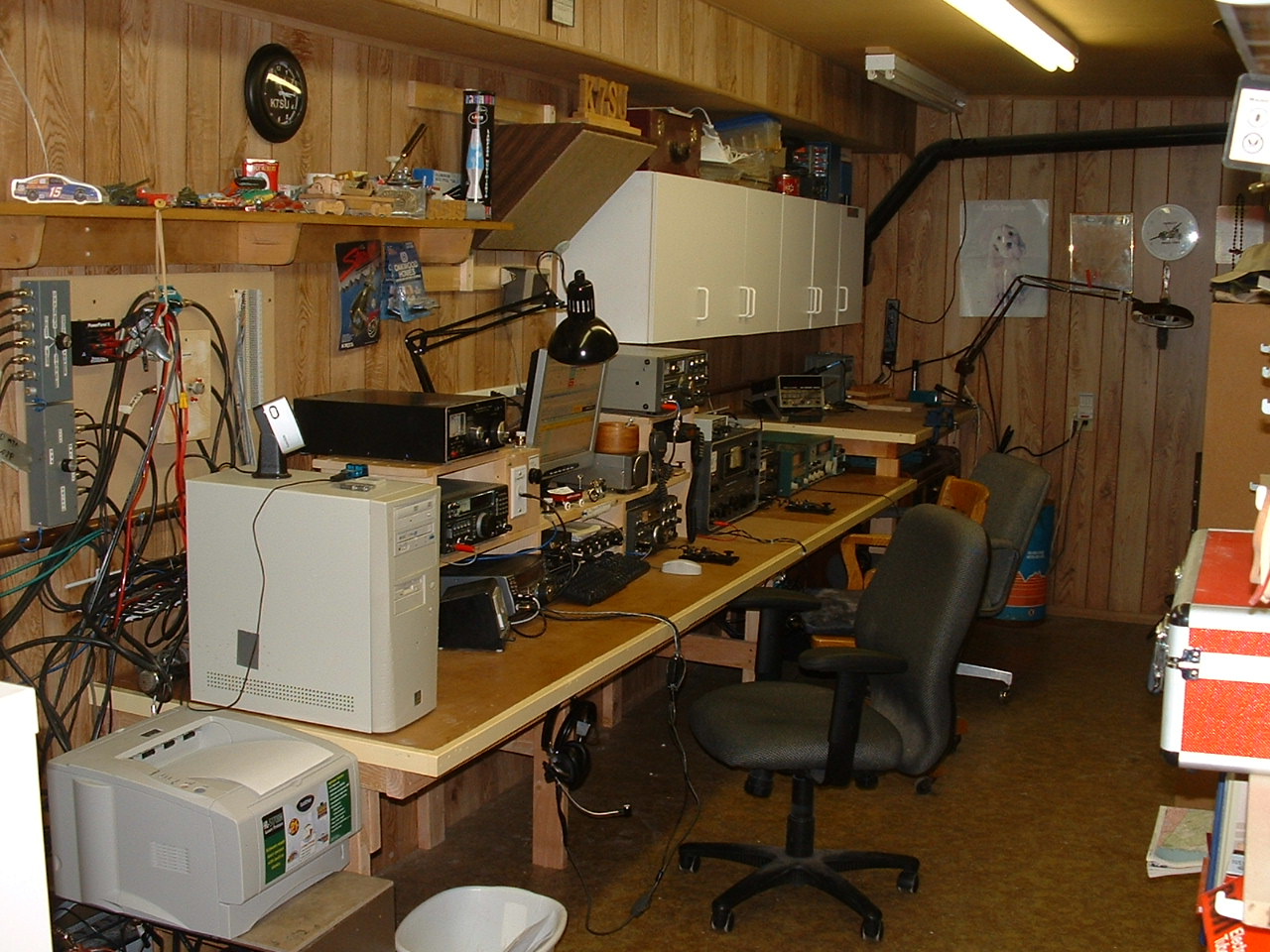 Above is the renovated shack as of March of 08. I used a cable tray behind the rigs to string the wires rather than letting them dangle below
to the floor. Looks a lot neater. I actually have three operating positions now...one for the newer rigs and one each for the older vintage rigs.
See a list of my rigs below.
Rigs
"Position 1"
Kenwood TS-2000, Kenwood TS-520
Kenwood TS830S
Icom IC-207 dual bander
* * *
"Position 2"
Drake 2NT, Hammarlund HQ-180A - Vintage Rig
* * *
"Position 3"
Heathkit HW-16, HG-10 VFO Vintage Rig
* * *
Also in the lineup....
Icom R-7000 receiver
Yaesu FT-50R Handheld
Icom IC-718 suitcase/portable rig (Not Shown)
Kenwood TS-430S (Now Shown)

Keys and Keyers
Heathkit HG-1410 Keyer for HW-16
J-37 for my Drake 2NT
Navy Flamless for my Kenwood TS-830
Bencher BY-1 for TS-2000
E.F. Johnson Speed-X Straight Key for TS-2000



Let's see...what did I do with that microphone? Oh yea...I have a Shure Bros. SM-2 mic/headset
that I use on the rare occasion that I need a mic.

I have a battery bank charged by a solar panel so I can run my 12v rigs on emergency power.
I have coax switches configured so I can use any HF antenna on any HF rig.

My antennas include a fan inverted vee for 160-80-20 with apex at 48 feet
40 meter Delta Loop with 48 foot apex
Homebrew near ground mounted 1/4 wave sorta vertical for 17 meters
Homebrew near-ground mounted vertical for 30 meters
Hustler 4-BTV vertical at 20 feet for 10 - 40
M-Squared 3 element 6-meter beam at 50 feet
12 Element KLM horizontal polarized beam at 52 feet for 2 meter SSB, CW, etc.
Cushcraft 7 element vertical beam at 55 feet for 2 meter FM etc.
Hustler mobile HF antenna with resonators for portable use.